G_PTFE / Aramid In Zebra Braided Packing, Braided Gland Packing
---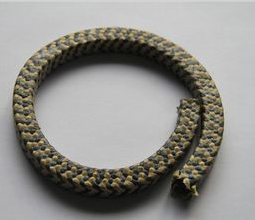 ITEM :- Sigma 2205

PRODUCT NAME :- G_PTFE / Aramid In Zebra Braided Packing, Braided Gland Packing

BRAND :- SIGMA PLACE OF ORIGIN : INDIA

CERTIFICATION :- API, ISO 9001
APPLICATIONS / USES :-
G_PTFE & aramid in zebra braided packing the packing made of Multi-yarn in zebra design consisting of pure G_PTFE and araimid & lubricated

Application
Designed for high pressure reciprocating pumps, medium speed centrifugals and valves. It can be used for general service steam, gases, solvents, mild acids, alkalis and most abrasive liquids. The packing will not stain in pulp & paper mill, pharmaceutical, food and sugar industries.
Service Limits, Application Parameter
Size Dimensions
| | | | | | | | | | | | | |
| --- | --- | --- | --- | --- | --- | --- | --- | --- | --- | --- | --- | --- |
| Size mm | 4 | 5 | 6 | 8 | 10 | 12 | 14 | 15 | 16 | 18 | 19 | 20 |
| approx. mtr. / kg | 35 | 22 | 16 | 9.0 | 5.6 | 3.9 | 2.9 | 2.5 | 2.2 | 1.7 | 1.5 | 1.4 |
Prime Features
Clean non contamination.
Long maintenance free service life.
Minimal shaft wear and leakage
Pliable, wear-resistant and dimensionally stable
Resists most chemicals & caustic media
Rugged and non-toxic
High density, dimensionally stable
Competitive price, good quality