Sigma 1620 High Pressure Braided Gland Packing , Asbestos Rubber Packing
---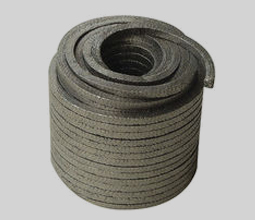 ITEM :- Sigma 1620

PRODUCT NAME :- Sigma 1620 High Pressure Braided Gland Packing , Asbestos Rubber Packing

BRAND :- SIGMA PLACE OF ORIGIN : INDIA

CERTIFICATION :- API, ISO 9001
APPLICATIONS / USES :-
Asbestos gland packing made of High grade Asbestos fibre yarn in duplex braid interlock construction to increase dimension stability of Gland packing, well lubricated with high temperature resisting lubricants to sustain high pressure and temperature. Dynamic sealing packing, This packing is made of very good asbestos that is processed by high temperature lubricant,Graphite lubricant and passive agent,whose outer covering is braided with asbestos yarns and rubber, graphited on the surface,each asbestos yarn is individually reinforced with inconel wire (copper wire, or stainless wire).

Application
Dynamic sealing--to be used as a stuffing box in pumps (especially boiler feed pumps) and in valves. Resistant to alkaline solutions, inert fluids, steam, gases, hot water and salt solutions. Suggested to use at high temperature and high pressure valves A good gland packing for high temperature valve application and is suitable for service with steam, butane and propane gases, oil vapour furnace oil. Very usefull for Rotary and reciprocating plant pumps & valves. oils, corrosive chemical & gases, petroleum byproducts, oxygen services, Dyestuffs, synthetic resins sector chemicals. Not recommended to use on molten metals, concentrated acids and gaseous fluorine.
Service Limits, Application Parameter
Specifications

Pressure bar

to 850 psi (60kg/cm2) valves

Density g/cm3

1.3

Temperature °C

-4500F (-2320C) to +5360F(+2800C)

Shaft Speed

to 4500 rpm

PH range

2-14
Prime Features
Long maintenance free service life.
Minimal shaft wear and leakage
Pliable, wear-resistant and dimensionally stable
Resists High Temperature
Stable fucntionable at high pressure
Rugged and non-toxic
High density, dimensionally stable - very little water absorption
Ideal for valve and slower shaft speed applications