Sigma 900 Ceramic Fibre Rope
---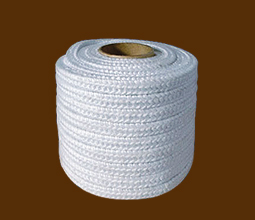 ITEM :- Sigma 900

PRODUCT NAME :- Sigma 900 Ceramic Fibre Rope

BRAND :- SIGMA PLACE OF ORIGIN : INDIA

CERTIFICATION :- API, ISO 9001
APPLICATIONS / USES :-Ropes are used for inspection Door Seals, Gaskets, Flange Seals, Expansion Joints, Pipe Lagging, Gas Turbine Insulation.

Ceramic Products
Sigma Ceramic products are made of premium ceramic fibre yarn with E-glass core & also metal wire core. We provide various ranges in Ceramic products such as Ceramic Ropes, Ceramic Cloth, Ceramic Webbing tape, Ceramic lagging rope, Ceramic Fabric cloth with metal wire insertion, Ceramic tape with metal wire core.

Ceramic textile products are best used for high temperature insulation purposes, as it can resist temperature upto 12000C.

Ceramic products are the superior replacement to Asbestos Products for best use in application.