Sigma 90 Graphited PTFE Gland Packing
---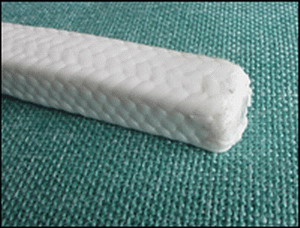 ITEM :- Sigma 90

PRODUCT NAME :- Sigma 90 Graphited PTFE Gland Packing

BRAND :- SIGMA PLACE OF ORIGIN : INDIA

CERTIFICATION :- API, ISO 9001

APPLICATIONS / USES :-A universal super performance packing made of PTFE(polytetra fluoro ethylene) Graphite filament yarn reinforced with synthetic fibre gland packing Duplex braided interlock construction to increase dimension stability. The combining benefit of PTFE, Graphite & high temperature resisting lubricants gland packing offers the ideal balance between density, resilience, compressibility,strength and durability of the packing.
Product Description :
Application : Self lubricating compression gland packing made out of combination of PTFE and graphite and treated with high temperature inert lubricant, to enhance lubricity & heat dissipation This packing is mechanically strong and suitable for high speed rotary application for hot oil boiler feed pumps,chemicals, dyes & intermediates, pesticides fertilizers, power plants etc. It withstands upto temperature 300° c & medium pressure under pH range 0 to 14.