Sigma 81 Zero Leakage Packing, Self Lubricant PTFE Fibre Gland Packing
---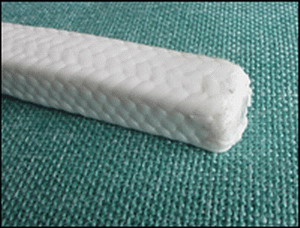 ITEM :- Sigma 81

PRODUCT NAME :- Sigma 81 Zero Leakage Packing, Self Lubricant PTFE Fibre Gland Packing

BRAND :- SIGMA PLACE OF ORIGIN : INDIA

CERTIFICATION :- API, ISO 9001

APPLICATIONS / USES :-Gland packing made of PTFE fibre yarn pre-impregnated with PTFE, and re-impregnated during square braiding. It has excellent properties of sealing, lubricating and resistance to chemicals.
Application : Designed for pumps and valves can handle most chemicals (except strong acid), acid, strong alkali and strong oxidizer. Especially for the condition of middle temp. high-pressure, high-speed and where contamination is not permitted.
Service Limits, Application Parameter
Specifications

Pressure Psi bar

to 300 psi (20 bar) rotary/ centrifugal; to 2000 psi (138 bar) valves

Shaft speed M/s

to 4500 rpm

Density g/cm3

1.3

Temperature °C

-4500F (-2700C) to +5000F(+2600C)

PH range

0-14