Sigma 1008A - Asbestos Dry Plaited Packing
---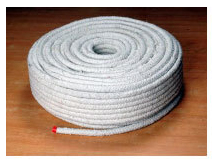 ITEM :- Sigma 1008A

PRODUCT NAME :- Sigma 1008A Asbestos Dry Plaited Packing

BRAND :- SIGMA PLACE OF ORIGIN : INDIA

CERTIFICATION :- API, ISO 9001

APPLICATIONS / USES :- Asbestos dry plaited general steam and insulation packing for hot gases, oven, autoclaves etc. conforming to IS Specification.
History & knowledgebase on Asbestos Products
Some of the first uses of asbestos insulation occurred in the latter half of the 1800s where hot-temperature pipes were a concern. Heat insulation containing asbestos was used for the first time in 1866. A few years later in 1870, the mineral was mixed with cement for boiler coverings. By 1874, asbestos insulation products reached commercial production and were sold on a mass scale.